Description
Overview
The SRG-4854P offers communication flexibility no matter where it is deployed. It offers dual RJ-45 LAN ports for when a wired connection is available, as well as supporting Wi-Fi connections for places where no physical connection is possible. This allows the system to deploy right where it's needed, in any space, giving ultimate coverage to the entire facility.
The SRG-4854P is built ready to connect to the cloud, with support for popular cloud services including Microsoft Azure, AWS, Google Cloud Platform (GCP), and can be configured to work with customized deployments as well. This gave the factory the ability to choose the cloud platform which best served their needs, knowing the system will work.
The SRG-4854P offers several key benefits to reducing the overall cost of the system, both initial procurement and over the service life of the system. Utilizing an Arm-based platform with Linux provides a low upfront cost, while also providing an energy efficient platform that helps meet the goals of reducing energy consumption across any facility.
About
The SRG-4854P from AAEON is built to power reliable and cost-effective edge gateway operations, with low upfront cost and reduced maintenance requirements over time. Powered by the Arm® Cortex-A8 800 MHz RISC processor, the SRG-4854P offers lower energy requirements for solar or battery powered operations, as well as reduced thermal output, allowing the system to operating in a wide range of temperatures from 0°C to 60°C without a loss in performance.
The SRG-4854P supports wireless communication through 3G/4G/LTE as well as NB-IoT to help reduce carrier costs. The SRG-4854P provides flexibility in connecting with edge nodes, supporting Wi-Fi and featuring two Gigabit Ethernet ports, and USB2.0. With support for up to four RS-485 ports, the SRG-4854P can connect with a wider variety of sensors and devices, as well as a greater number. Optional wall-mount and DIN rail kits ensure the SRG-4854P can be deployed anywhere it's needed. The SRG-4854P is also compatible with popular cloud services including AWS, Azure, and Arm Pelion, or can be configured to work with a customer's own cloud platform.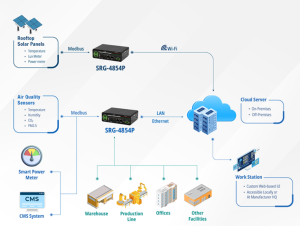 Features
ARM Cortex-A8 800 MHz RISC Processor
Onboard DDR3L 1 GB
eMMC 8G
Built-in Micro SD Card Slot x 1
3G/4G LTE mini PCIe connector x 1
NB-IoT connector x 1
SIM card socket x 1
Gigabit Ethernet RJ-45 x 2 LAN port
USB2.0 x 2
RS-485 x 4
4 LED lights controlled through GPIO
Real time clock x 1
DC9-30V
Option for wall mounting or DIN rail mounting
Antenna x 2 (optional)
VGA x 1 (optional)
Specifications
[SRG-4854P]
system
processor
ARM Cortex-A8 800 MHz RISC Processor
System Memory
Onboard DDR3L 1GB
RTC
Serial real time clock x 1
Expansion Interface
3G/4G LTE mini PCIe connector; NB-IoT connector; SIM card socket x 1
Battery
3V CR2032 Lithium battery for RTC
Power Requirement
DC9-30V
Power Consumption
2.28 W
Dimension
5.67″ x 3.94″ x 1.73″ (144 x 100 x 44mm)
Gross Weight
512 g
Operating Temperature
32 °F ~ 140 °F (0 °C ~ 60 °C)
Storage Temperature
-40 °F ~ 176 °F (-40 °C ~ 80 °C)
Operating Humidity
10% ~ 95% relative humidity, non-condensing
MTBF (hours)
855,890
Wireless
—
i/o
Storage
eMMC 8G; Micro SD slot
Serial Port
RS-485 x 4
LAN
Gigabit Ethernet, RJ-45 x 2
USB
USB 2.0 x 2
GPIO
4 LED control
Output Interface
—
Ordering Information
[SRG-4854P]
Part Number
SRG-3352-A10-A002
cpu
ARM Cortex-A8 800MHz
memory
Onboard DDR3L 1G
thermal
Fanless
com
RS-485 (phoenix)
storage
eMMC 8GB, MicroSD x1
lan
GbE x 2
usb
USB 2.0 x 1
Micro USB x 1
expansion slot
Mini PCIe slot x 1,
SIM card socket x 1
power
DC9-30V
operation temp
0°C ~ 60°C @ 0.5 m/s airflow
others
VGA x 1 (optional),
3G/4G LTE module (optional)
Packing List – SRG-4584P iOT Gateway
Optional Accessories – SRG-4584P iOT Gateway
| | |
| --- | --- |
| 1255300368 | Power Adapter. AC/DC. 100-240VAC. 12VDC/3A. 36W. AOEM. ADS036T-W120300. (phoenix connector) |
| 9741EC25E0 | PCIe mini card.4G LTE module kit with cable & Antenna, EC25-E |
| 9741EG25G0 | PCIe mimi card. 4G LTE. module kit. Global Band W/SIM holder. W/Cable & antenna. Quectel. EG25-G |
| 9741236A00 | Mini card WiFi Kit.802.11ac/a/b/g/n,BT4.2.USB Signal.W/cable&antenna |
| 9751335201 | Din rail kit. 44 x 48.3mm |
| 9751335202 | Wall mount kit. 100 x 35mm |
See also – SRG-3352